Broken Angel
Film Screening + Filmmaker Q&A with Jules Arita Koostachin
 Please RSVP below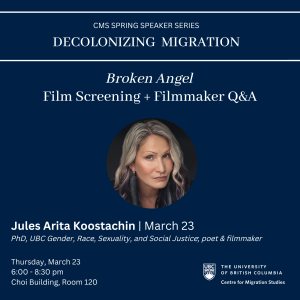 Join us for a screening of the feature film, Broken Angel, written and directed by Jules Arita Koostachin (PhD, UBC Gender, Race, Sexuality, and Social Justice). Dr. Koostachin will be in attendance for an engaging Q&A after the film, moderated by CMS Affiliate and scholar of new media, Elizabeth "Biz" Nijdam (UBC Central, Eastern, and Northern European Studies). This is the third event in our Spring Speaker Series, Decolonizing Migration.
Speaker Bio
Born in Moose Factory Ontario, Dr. Jules Arita Koostachin was raised by her Cree speaking grandparents in Moosonee, and also with her mother in Ottawa, a warrior of the Canadian Residential school system.  Jules is a band member of Attawapiskat First Nation, the Ancestral lands of the MoshKek AsKi InNiNeWak. In 2010, she completed her masters at Ryerson University in Documentary Media where she was awarded the Award of Distinction for her thesis work, as well as the Graduate Ryerson Gold Medal for highest academic achievement.  While in graduate school, she produced her first feature documentary Remembering Inninimowin regarding her journey of remembering InNiNiMoWin (Cree).  After graduation, Jules was one of six women selected for the Women in the Directors Chair program at the Banff Center, where she directed a scene from her feature script Broken Angel, a dramatic thriller. Broken Angel was selected by the Toronto International Film Festival Filmmakers Lab in 2018 and the Whistler Screenwriting Lab (aka Praxis) in 2019.  Broken Angel commenced production in the fall of 2021, and has now been released into the world. Also, she is in post-production with her first NFB feature film WaaPaKe about intergenerational resilience and hope. She is also in post-production with her next documentary feature "Chubby Cree" with Soapbox Productions. She is going into production with her second Telefilm funded feature "Angela's Shadow" in the spring of 2023. Jules' popular television series AskiBOYZ (2016) co-produced with Big Soul Production is available on Aboriginal Peoples Television Network in both English and Cree. She was selected for the Directors Program for Women (2021/22) with the Academy of Canadian Cinema & Television.
Film Summary

A near death beating and a horrifying anniversary triggers ANGEL'S (30) dead mother GRACIE (30), an unsettled spirit who returns from the spirit realm. Angel soon comes to realize that EARL'S (30) abusive nature is starting to impact her daughter TANIS (12). Meanwhile, Angel's father FRANKIE (60), incarcerated for assault and battery, is working hard to display good behavior in the hopes of reconciling with his estranged family.
One night, Angel witnesses Earl's abusive behavior spiral out of control and he turns his anger onto Tanis, but Angel intervenes. As a result, Angel and Tanis flee into the night and head toward safety, a women's shelter on her reservation. Once they are in the care of the shelter, Angel finds herself in a supportive community of Indigenous women. The shelter is led by her foster mother DOROTHY (60), who gently pushes Angel to come face to face with her dark past and the truth about Tanis' biological father. While in the shelter, they start to connect with other women, their cultural identity, spirituality and the spirit of Gracie, who follows them in hopes of saving them from further assaults. Angel finds temporary peace, and the prospect of a new beginning is on the horizon, but not too long after they settle, her world comes crumbling down around her.
In the meantime, a revengeful Earl living in his own hell, frantically tries to locate Angel. After tearing the house apart like a caged animal, he finds a lead to Angel's whereabouts. Frankie is finally released from prison and heads out to find his daughter, but finds that they are gone, and Earl living in his home. Enraged, a scuffle breaks out between them leaving Frankie in peril, as Earl sets off seeking vengeance on Angel for leaving him. Angel prepares to leave the shelter for a new life, but soon after comes to face her biggest nightmare, Earl. In a deadly confrontation with Earl and with Frankie on his heels, Angel is forced with the decision to flee or fight. Her parents, Frankie and the spirit of Gracie reunite to save Angel from his wrath. Their unconditional love provides her the power and strength to fight back once and for all.
Registration