Carceral Politics of LGBTQ Asylum and the Feminist Revolution in Iran
Assistant Professor, UBC Department of Anthropology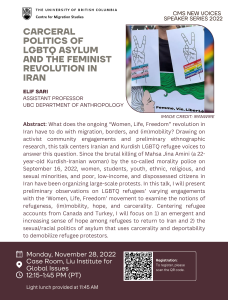 Free & open to the public. To register, fill out the RSVP form below.
Abstract: What does the ongoing "Women, Life, Freedom" revolution in Iran have to do with migration, borders, and (im)mobility? Drawing on activist community engagements and preliminary ethnographic research, this talk centers Iranian and Kurdish LGBTQ refugee voices to answer this question. Since the brutal killing of Mahsa Jina Amini (a 22-year-old Kurdish-Iranian woman) by the so-called morality police on September 16, 2022, women, students, youth, ethnic, religious, and sexual minorities, and poor, low-income, and dispossessed citizens in Iran have been organizing large-scale protests. Their struggle has also sparked diasporic political action and resulted in demonstrations, rallies, human chains, sit-ins and die-ins, and symbolic acts of cutting hair, among other forms of protesting, across the world. LGBTQ refugees, who had to leave Iran due to their non-normative genders and sexualities and were resettled in North America and Europe, have actively participated in the protests. Others, who still await refugee resettlement in liminal zones such as Turkey, have mostly engaged in social media activism, for they are barred from joining public protests with the threat of deportation. In this talk, I will present preliminary observations on LGBTQ refugees' varying engagements with the 'Women, Life, Freedom' movement to examine the notions of refugeness, (im)mobility, hope, and carcerality. Centering refugee accounts from Canada and Turkey, I will focus on 1) an emergent and increasing sense of hope among refugees to return to Iran and 2) the sexual/racial politics of asylum that uses carcerality and deportability to demobilize refugee protestors. I argue that this transnational analysis debunks the hegemonic representations of empires as the most desirable places for gender and sexual non-normative people and challenges a linear understanding of LGBTQ asylum as a journey from repression to freedom, safety, and queer futurity.
Moderator: Geraldine Pratt (Professor, Geography)
Click here for other events in our New Voices Speaker Series!
Registration:
Registrations are now closed.