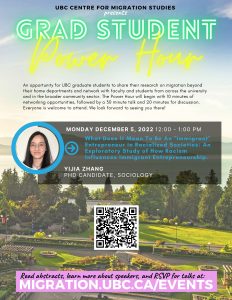 [ Bio ]
Yijia Zhang is a PhD candidate at the Department of Sociology of the University of British Columbia (UBC). She is a student fellow at the Centre for Migration Studies and the Institute of Asian Research. Her research examines the intersection of migration, race/ethnicity, work, and platform. In her MA program, Yijia studied the Chinese-language ride-hailing in the Pre-Uber Vancouver. Part of that work has been published in WeChat and the Chinese Diaspora: Digital Transnationalism in the Era of China's Rise(https://www.taylorfrancis.com/books/edit/10.4324/9781003154754/wechat-chinese-diaspora-wanning-sun-haiqing-yu). Inspired by the sociological debates on the integrative potentials of ethnic economy, Yijia's dissertation explores the work and entrepreneurial practices around platform-based ethnic businesses, focusing on Chinese immigrants and international students in Vancouver, Canada.
[ About the Grad Student Power Hour ]
The meaning of Immigrant entrepreneurship seems straightforward. Yet why is it important to create a separate concept for entrepreneurship? Is the immigration status variable related to opportunities, or structural constrains, for entrepreneurial activities? Does being an immigrant matter for entrepreneurship? The modern nation states are societies structured on the basis of the antagonism between groups, whose differences are often reified as racial or ethnic. Immigrants, when coming from countries located at a lower rung of the global racial/ethnic hierarchy, face various forms of discrimination, ranging from encounters of racist attack to complete exclusions from the mainstream society in the host country. This presentation is a preliminary effort to break down the ways that racism influences immigrant entrepreneurship: How reactions to various kinds of racism lead to the emergence, expansion and development of immigrant enterprise; and how racism limits the short-term and long-term growth of immigrant entrepreneurial activities.
The registration for this event is now closed. Please send us an email if you would like to participate.
admin.migration@ubc.ca