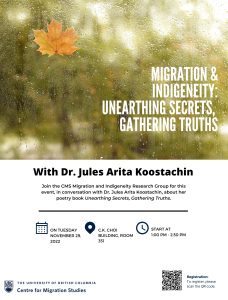 Join this CMS Migration & Indigeneity Research Group event in conversation with Dr. Jules Arita Koostachin!
Bio: Born in Moose Factory Ontario, Jules was raised by her Cree speaking grandparents in Moosonee, and also with her mother in Ottawa, a warrior of the Residential school system. Jules is a band member of Attawapiskat First Nation, the Ancestral lands of the MoshKeKo AsKi InNiNeWak. She resides in Vancouver with her family. She completed her PhD with GRSJ at UBC, her research MooNaHaTihKaaSiWew: Unearthing Spirit focuses on Indigenous documentary methodologies. In 2010, she completed her masters at Ryerson University in Documentary Media where she was awarded the Award of Distinction for her thesis work, as well as the Graduate Ryerson Gold Medal for highest academic achievement. While in graduate school, she produced her first feature documentary film Remembering Inninimowin regarding her journey of remembering Cree. After graduation, Jules was one of six women selected for the Women in the Directors Chair program, where she directed a scene from her award-winning feature script Broken Angel. Her script was also selected for the TIFF's filmmaker lab, as well as the Whistler's Screenwriting lab where she worked with story editor/screenwriter Dennis Foon.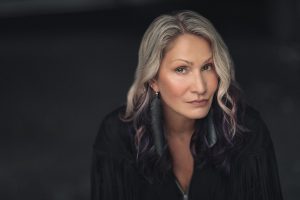 Jules was the Indigenous Storyteller in Residence with the Vancouver Public Library where she further developed her poetry, and soon after, Unearthing Secrets, Gathering Truths (2018) was published with Kegedonce Press. Jules is currently writing her novel Moccasin Souls. She carries extensive knowledge working in Indigenous community in several different capacities and these community experiences feed her arts practice.
Registration:
This registration is now closed, please send us an email if you would like to participate (admin.migration@ubc.ca)