"Ethnic Identity as a Strategy for Dealing With Uncertainty Darfurian – Sudanese Asylum Seekers in Israel as a Case Study" with Dr. Lisa Richlen
Friday, February 11,
2022
12:00 PM – 1:30 PM — Pacific Time (PT) 
Location: Online via Zoom
Free & open to the public. To register, fill out the RSVP form below.
This event is co-sponsored by the UBC Centre for Migration Studies Migration and Indigeneity Group.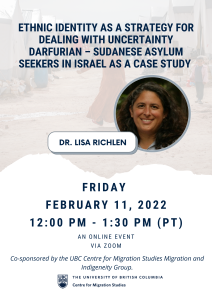 [Abstract]
Western countries are increasingly reticent to grant refugees basic rights – including legal status – leaving them in situations of precarity and liminality. In the absence of access to services and legal rights, many turn to their communities for physical and other forms of basic support. One common mechanism for facilitating this is the establishment of organizations founded according to identity group, including ethnic identity. Indeed, this is the case in Israel where the Darfurian Sudanese community has established ethnically-constituted 'community centers.' In the absence of a viable future in Israel, in light of on-going uncertainty, and in a context where they lack basic legal and social rights, these community centers revert to strategies from the homeland which facilitate survival and belonging. They actively harness ethnic identity and the ethnic group to help asylum seekers to cope with and even overcome threats to physical and cultural survival in a hostile hostland. Initially upon arrival to Israel, community centers focused on provision of emergency and basic humanitarian assistance. However, over time and in the absence of a viable long-term solution in the hostland, they have increasingly engaged in cultural and linguistic identity reclamation. For many, these later activities represent a source of personal strength and pride. Arguably, this provides them with an important coping mechanism for dealing with the difficult Israeli reality. Therefore, this case study demonstrates that the liminal situation represents both danger and opportunity; danger, in that the community centers are a vehicle for providing emergency assistance, and opportunity in that they facilitate identity reclamation. As such, I claim that the ethnic group and ethnicity is a flexible construct that can adapt to the needs of the ethnic group over time. Furthermore, it is an important tool for managing (and, in some cases, actively overcoming) refugees' liminality while also subverting and reimagining their relationship to the homeland. Indeed, community centers and the ethnic group anchor individuals within a liminal time and place. The findings from this ethnographic research are based on interviews with 52 individuals and attendance at nine events.
 [Bio]
Lisa Richlen, a Canadian citizen through her mother, is originally from Seattle. She lived in Israel from 2000-2021 and, from 2004-2021 worked as an employee of and a consultant for tens of social change and human rights organizations. In 2021, Richlen completed a PhD at Ben Gurion University of the Negev in the Department of Politics and Government focusing on community organizing amongst Sudanese Darfurian asylum seekers in Israel.
Event Registration: