"Re-storying Higher Education: Toward Indigenous Resurgence & Settler Decolonization"
with Dr. Shauneen Pete (University of Victoria)
Friday, February 4th,

2022

1:00pm- 2:30pm — Pacific Time (PT) 

Location: Online via Zoom

Free & open to the public. To register, fill out the RSVP form below.
This event is co-sponsored by the UBC Centre for Migration Studies Narratives Group.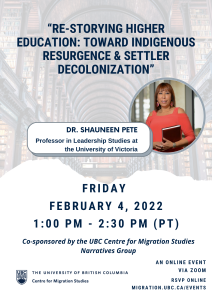 [Abstract]
For the past twenty years in my work as a faculty member I have guided settler, pre-service, teacher candidates toward a deeper level of engagement with Indigeneity. I have helped them to let go of their limiting assumptions about multicultural education and guided them toward a vision for reconciliation education. Through storying I will share with you some of my pedagogical practices which allow for a deeper understanding of both Indigenous resurgence and settler decolonization; and I will re-story a vision for curriculum design in Canadian higher education, which I believe may advance our reconciliation efforts.
[Bio] 
Dr. Shauneen Pete is from Little Pine First Nation in Treaty 6 territory.  Shauneen is a mother and grandmother.  She promotes the Indigenization and decolonization of higher education. As a teacher, she works toward settler decolonization in teacher education.
Dr. Pete is a Professor in Leadership Studies at the University of Victoria. She has served as the Executive Lead: Indigenization at the University of Regina. She was also the Vice-President (Academic) and interim President at First Nations University of Canada.
Event Registration: