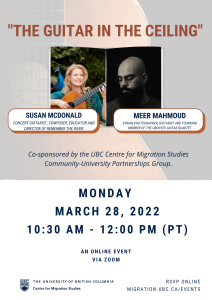 "The Guitar in the Ceiling" with Susan McDonald & Meer Mahmoud
10:30am — Pacific Time (PT) 

Location: Online via Zoom

Free & open to the public. To register, fill out the RSVP form below.
This event is co-sponsored by the UBC Centre for Migration Studies Community-University Partnerships
[Abstract]
The Guitar in the Ceiling webinar will illuminate the vital role that the arts, and particularly music, have in nurturing healing, emotional and cultural connection, resiliency and self-empowerment for those experiencing trauma. It will address how music helps mitigate emotional struggles faced by people living in conflict regions and other types of upheaval as well as those who have been forced to flee and are currently displaced.
Susan McDonald will discuss her work performing in refugee camps and teaching guitar in Lebanon and Iraq. Having learned firsthand the power of music both to heal and to ignite courage in the most difficult of circumstances, she will share the stories of artists who risked their lives for their love of music during a time when being caught with a musical instrument meant a potential death sentence.
The presentation seeks to provide understanding of the importance of the arts in healing and personal empowerment for traumatized populations by sharing firsthand experiences from several different perspectives. Canada has a great asset in its refugee population and this webinar will seek to emphasize how the experiences of people who have fled untenable situations have the potential to fuel tremendous societal growth. In addition, we will celebrate music as a powerful medium for transcending language and cultural barriers.
[Bios] 
Susan McDonald is a concert guitarist, composer, educator and director of Remember the River, a 501c3 nonprofit organization which supports artists in regions of isolation or conflict through performances, teaching, mentorship and donations of musical instruments and art supplies.
As a concert artist, Susan's performances have spanned four continents, ranging from venues such as Carnegie Hall to refugee camps along the Syrian border. Her music has been enthusiastically received in concert halls, universities, festivals, schools, and hospitals. She served four terms on the Touring Roster of Texas Commission on the Arts and the Mid-America Arts Alliance and has released 10 CDs on the Mayfly label. Her recordings and live performances have been heard on radio and television broadcasts worldwide.
Her career and priorities shifted when her father, the harpsichordist and composer Myron McDonald, fell ill with cancer. She took a hiatus from touring to spend her days and nights playing and composing music for cancer and hospice patients and their families, from whom she grew to understand that the greatest power in music lay in its ability to provide comfort and hope. From that point on, she has dedicated herself to sharing her music with those experiencing trauma.
As a composer, Susan is inspired by literature, nature and personal stories. She specializes in creating Animal Ballets, an art form which combines her original music with video she has filmed in locations including the Galápagos Islands and the Ecuadorian Amazon to create performances in which the animals shown on large screens with whom she musically interacts are the "dancers" and she is their "orchestra."
A passionate advocate of the arts in the classroom and with marginalized communities, Susan works domestically with Young Audiences of Houston and serves as Artistic Director for Fine Arts Foundation. She has taught at the High School for Performing and Visual Arts in Houston, Houston Community College, and the Houston Conservatory and has conducted masterclasses in North and South America and Europe. She has created guitar programs for YES Academies in Iraq, where she directed the Mesopotamian Guitar Orchestra and Ensemble Enkidu and at the University of Notre Dame Louise in Lebanon, where she directed the Orontes Quartet and the Taous Guitar Orchestra, which was comprised of musicians from Lebanon, Jordan, Iraqi Kurdistan and Syria.
Susan lives outside of Austin, Texas, where she enjoys hiking, beekeeping and gardening with her pet peacock Quetzalcoatl (a.k.a."Binky.")
Click here to visit her website.
Meer Mahmoud is a Syrian photographer, guitarist and founding member of the Orontes Guitar Quartet.
After completing his degree in music education at Al-Baath University in Homs, Syria, Meer went on to teach at the Sochi Alwadi Institute of Music and to continue his studies at the Higher Institute of Music in Damascus, where he joined the Orontes Guitar Quartet. Even in the midst of a bloody civil war, the quartet quickly became known throughout Syria and later Lebanon, with concerts ranging from refugee schools to the Damascus Opera House as soloists with the Syrian National Symphony Orchestra.
Meer's passion for sharing his love of music led not only to an invitation to serve as a teaching assistant for YES Academy's guitar program at the University of Notre Dame Louaize  but also the opportunity to help create a guitar program for Syrian refugee children under the auspices of Remember the River and Jusoor. Meer was chosen to receive a fellowship through the Artist Protection Fund, an initiative of the Institute of International Education which makes grants to threatened artists and places them at host institutions in safe countries. As an APF fellow and in partnership with the University of Victoria, Meer has concertized extensively throughout Canada as a member of Orontes. As a soloist, he has recently become part of the Intercultural Association's Inclusion Project.
Meer currently lives in Victoria, where he enjoys his motorcycle, photography and advocating for fellow refugees.
Click here to visit Orontes' website.
Event Registration: