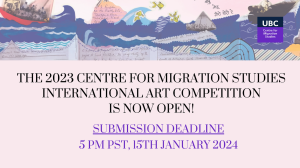 Call for Emerging and Established Artists and Poets  
The Art Competition invites both emerging and established artists and poets to submit artworks on migration for a juried competition, with two prizes for artworks and one prize for poetry.
This year's theme is climate migration: the relationships between migration and the environment. The competition is open to anyone regardless of location, citizenship status, background, and other determiners. The Centre for Migration Studies values the way arts-based research and the work of artists contribute to academic conversations about the causes, consequences, and experiences of global human migration and mobility.
Deadline: 5PM PST, January 15, 2024
Prizes
Artworks:
First Prize will be awarded for an artwork: CAD $1,250
Second Prize will be awarded for an artwork: CAD $250
Poetry:
First Prize will be awarded for a piece of poetry: CAD $500
We will consider migration as defined broadly and drawn from any historical periods or geographical areas. Please visit https://migration.ubc.ca/home for a better understanding of our research and public engagement as it concerns migration.
Artwork Criteria
We will only accept artworks in digital formats, such as photography, illustrations, comics and graphic novels, animated shorts, multimedia works, and web-based works. Short and feature-length live-action films will not be considered.
We will consider original artworks produced between 2021 and 2023.
The winning artworks (First and Second Prize winners) will be featured on the Centre's website.
Entry in the competition means that the artists give consent to the Centre to feature their works digitally on the website if they are selected for one of the prizes. The Centre may want to use the winning artworks for future purposes too in agreement with the artists. The Centre may further publish the artwork in print and/or electronically for educational, media, and promotional purposes only. This includes promotional materials, such as flyers, posters, newsletters, websites, and social media.
Multiple submissions of artwork are permitted. Please submit each artwork separately.
Display/Public Access
Artworks will be featured on the UBC Centre for Migration Studies website for several months in the spring of 2024, and will be archived on this website for future access.
Selection
The submissions will be evaluated by a jury consisting of members of the UBC Centre for Migration Studies and selected visual and/or digital media scholars. The selection criteria include:
Strength and creativity of the submitted work
The work's relevance and originality in addressing climate migration, and the relationships between migration and the environment
The appropriateness of digital formats for a web presence
Artist's and author's consent to be featured on the UBC Centre for Migration Studies website
How to apply
Submit your works to the form here before 5PM PST on 15 January 2024. The submission package should include the following items and must be a single PDF no larger than 10MB.
Please submit you work here.