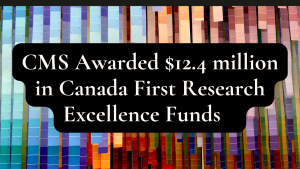 We are thrilled to announce that CMS has been awarded $12.4 million in Canada First Research Excellence Funds as a partner on the Bridging Divides research program, led by Toronto Metropolitan University! 
The Bridging Divides program is dedicated to building a new understanding of the challenges and opportunities that migrant integration poses for Canada (and all countries) at a time when technological transformations are rapidly changing the way we work, live and connect to each other locally and across borders. 
Seven UBC researchers are members of the core team, including UBC Team Lead and CMS Director, Antje Ellermann (Political Science), CMS affiliates Dan Hiebert (Geography), Suzanne Huot (Occupational Science and Occupational Therapy), Sean Lauer (Sociology), and Vince Hopkins (Political Science in July 2023), and UBC faculty Elizabeth Saewyc (School of Nursing), and Margaret Moss (First Nations House of Learning).  
These UBC team members are part of an intersectoral, inter-disciplinary consortium led by Toronto Metropolitan University, with additional partners at University of Alberta and Concordia University. Together they will help Bridging Divides generate novel insights and usable knowledge in four thematic areas: 1) Immigrant Health and Well-Being, 2) Employment and Lifelong Learning, 3) Place and Infrastructure and 4) Citizenship and Participation. 
The program will focus on the urban context, including both large urban centres and small- and mid-sized cities, as these are the main destinations of both newcomers and settled immigrants. 
Learn more about Bridging Divides at torontomu.ca/research/bridgingdivides or via email at antje.ellermann@ubc.ca. 
See the UBC Office of Research & Innovation Announcement here: 
https://research.ubc.ca/ubc-partner-four-new-initiatives-funded-canada-first-research-excellence-fund 
Congratulations to all team members and research partner institutions on this incredible award!