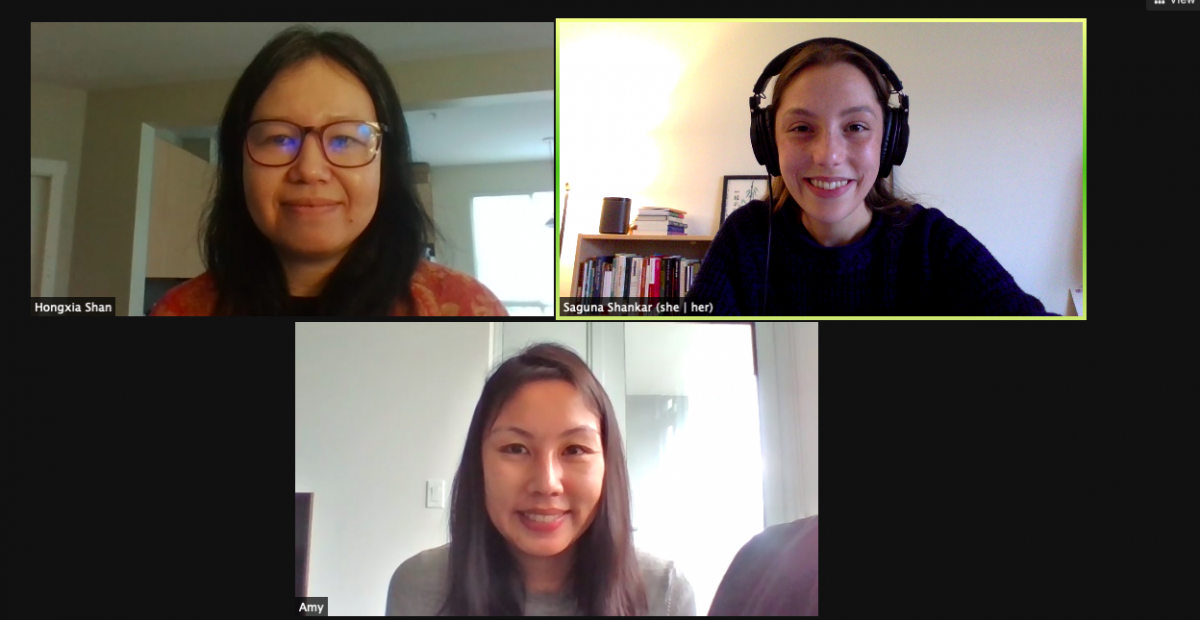 Working across boundaries to strengthen diversity work and learning: S.U.C.C.E.S.S. and Dr. Hongxia Shan collaborate on a community–university research partnership
A new participatory, community-based, and arts-informed research project is underway to support organizations' capacity for professional training and engagement in diversity work amongst staff members. Ms. Amy Cheng, Director of Strategic Initiatives and Integration at S.U.C.C.E.S.S., and Dr. Hongxia Shan, Associate Professor at the University of British Columbia's Department of Educational Studies, developed this partnership project after they met at an event hosted by the Centre for Migration Studies. As Ms. Cheng and Dr. Shan share the story of their community–university partnership, they take turns narrating and reflecting on their work so far. When they first met, Ms. Cheng and Dr. Shan found that they were both interested in professional learning. As a settlement service provider, Ms. Cheng explained to Dr. Shan that S.U.C.C.E.S.S. had been noticing the burgeoning diversity of clients served by the organization, as clients had increasingly different ethno-cultural backgrounds, language competencies, and migration experiences. Dr. Shan proposed a collaborative project to explore professional learning amidst these changes. In particular, Ms. Cheng and Dr. Shan are interested in strengthening training on justice, equity, diversity, and inclusion to support staff members' everyday work in the immigrant services sector. With this community-led priority in mind, Ms. Cheng and Dr. Shan planted the seeds for this project by applying for a SSHRC Partnership Engage Grant. This grant enabled them to intentionally craft a proposal that reflected both the researcher and community partners' expertise, experience, and efforts that they would be devoting to the project. The coordination of S.U.C.C.E.S.S.' priorities, Dr. Shan's interests, as well as the flexibility of funding made it possible for the project to come into being.
For Ms. Cheng and Dr. Shan, tending to their growing partnership project was an energy and strategy-intensive exercise in communicating, voicing questions, and considering different perspectives through a deliberative, reciprocal approach to conducting research. The goals of the project were articulated in conversation. In one instance, Dr. Shan and Ms. Cheng adapted their goals to focus on "expanding" rather than "assessing" organizational capacity for professional learning around diversity work. They decided as partners to focus on expanding organizational capacity for staff training because of their understanding that "education does not end with a certificate." Instead, they suggest it is important to acknowledge ongoing learning across different settings, and refrain from the more evaluative sense of assessment. Dr. Shan recounted how points of dialogue like this were necessary for orienting to shared goals with an appreciation for listening and mutual learning: "People can underestimate the energy and time that it takes to create goals in a partnership project," say Ms. Cheng and Dr. Shan. They suggest that ownership of the research needs to be shared, in order to address the priorities of each partner, and to grapple with decisions that can be unique to partnership projects.
One of the unique issues of community–university research partnerships raised by Ms. Cheng and Dr. Shan is about the collection and sharing of data. Ms. Cheng and Dr. Shan established protocols on each partner's access to data. They agreed, for instance, that Dr. Shan and university-based researchers would be the direct contacts for recruitment and participation, and that they would be responsible for anonymizing research participants and reading the transcripts, while Ms. Cheng would intentionally keep a distance from these aspects of the project. Ms. Cheng and Dr. Shan explain that these "technical boundaries were built into the design of the study" to respect and recognize partners' different positionalities with regards to the project.
Dr. Shan and Ms. Cheng suggest the following points of conversation and questions to ask when negotiating a community-research partnership project:
•    How is the word "partnership" being defined in a specific project? How is a specific partnership serving its contributors? Research structures can be partnership-based by attending to material realities of decision making and resourcing (e.g., as established in conversation, or through a memorandum of understanding agreement).
•    Pragmatically, can a funding source be equitably shared amongst community and university partners? What policies for compensation and resourcing have community partners developed? How might participants be compensated for their labour and time?
•    What forms of recognition are meaningful to partners, such as co-authorship, attribution, and publications and dissemination activities oriented towards different audiences?
•    Who will be included in a research project? Academic partners need to pause and ask themselves "what do I mean when I say community?"
•    When reviewing existing research literature, analyze findings as "true for whom?"  Who did researchers talk to? Who is represented and who is not?
•    Reflect on the narratives that a project draws upon: For example, be wary of assimilation narratives, which can implicitly filter into the design of projects about immigration and settlement.
•    What are partners' competencies and expertise, and as a result how should responsibilities in a project be shared?
•    What are partners trying to figure out? What outcomes or solutions are partners working towards?
Currently, Ms. Cheng, Dr. Shan, and Nasim Peikazadi and Yeonjoo Kim, UBC doctoral students assisting with this project, are working to publish a co-authored manuscript reporting on the findings in an international journal on adult education. In March 2021, Ms. Cheng and Dr. Shan are sharing some findings at the 23rd Metropolis conference in Canada.  As they move forward, Ms. Cheng and Dr. Shan see themselves as navigating two systems together, academia and the immigrant services sector. They suggest that navigating systems through a partnership project enables them to share their expertise with one another, and to collectively transform some of the dominant structures in place that have been designed for more traditional—that is, less partnership-based—research in each of these systems. As Dr. Shan and Ms. Cheng put it, they enjoy that there is a "willingness to put equity into practice" in this project, providing grounds for their continued energy, inspiration, and collaboration.