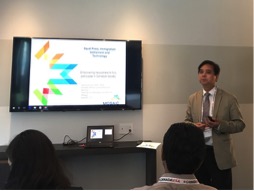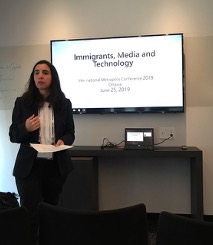 MOSAIC and UBC developed a community-university partnership to support newcomers' interactions with information, media, and digital technologies.
In a time of shifting information and technology landscapes, what are refugees' and newcomers' experiences with misinformation? When navigating the internet, how cautious do refugees need to be—what information should they be providing, and what should they be wary of? How do newcomers navigate online privacy and security risks? With the goal of addressing these and other emerging questions on the use of digital tools and information, Sherman Chan, Director of Family and Settlement Services at MOSAIC, and Dr. Amira Halperin, UBC Department of Sociology, began developing a research partnership in 2018. Chan and Halperin are engaged in action-oriented research to enhance practical guidance on information literacy oriented towards refugees and other groups.
Chan and Halperin's project examines the intersections of information, media, and digital technology use in newcomers' lives, with a concern for access, equity, and privacy. MOSAIC staff are working with Halperin on the Equal Press project, which promotes gender equality in news media. Equal Press investigates techniques for reporting on gender-based violence, hosts media training workshops for refugees and experts working with newcomers, and creates resources for journalists and students. Currently, MOSAIC and Halperin are also looking into questions sparked by the transitions to online settlement services during COVID-19.
As partners, Chan and Halperin enjoy working towards what they suggest are unique possibilities offered by partnership projects. Chan explains that "programming, policy, and research are interrelated. Community–university partnerships reinforce these crucial connections. We value community-based research that applies to everyday life." Halperin and Chan are eager for their collaborative work to continue to cultivate relationships between MOSAIC, its community members, as well as learners and academics based at UBC. In the last year, they have presented in community-based settings and at an academic conference to share insights from their work with a range of audiences, including staff in government and non-profit organizations. Their activities prioritize the return of research findings to community-based contributors and participants. Yet, despite the value that they associate with community–university partnerships, Halperin and Chan note that it can be challenging to secure funding for partnership projects, advising persistence and continued relationship building to grapple with these obstacles.
Chan and Halperin's key messages about community–university partnerships emphasize joint learning and equitable sharing of research processes and outputs. Chan draws attention to the importance of agreeing upon ethical guidelines that he suggests can shape the direction of a project, while documenting both partners' approach to commitment, respect, participation, and knowledge sharing. From Halperin's perspective, "the essence of the collaboration is to mutually learn about each partner thoroughly. From the side of the researcher, it means meeting the people who work in the organization, learning its history and past activities, and engaging in its major activities—including those which are not related directly to the specific project."
As they look ahead, Chan and Halperin are eager to see their work extending beyond the bounds of their research project, contributing to tangible support that settlement service providers offer, and stronger understandings of newcomers' experiences with information tools and the media.
Quick Links