The Competition
Announced in early 2021, the Migration and Mobility Art Competition was an effort by the UBC Centre for Migration Studies to open a conversation with established and emerging artists on the broadly considered topics of migration and mobility. A jury awarded cash prizes for winners in each category, as well as two honourable mentions, based on strength, creativity, relevance and originality.

Mobility First Prize
Impossible Cities
Linocut placed inside a lightbox and based on digital composites compiled in OpenStretMap and Mapbox Studio (2019): supported by Charles Street Video and first exhibited at the Toronto Media Arts Centre in summer 2019
Gregory Gan (Freie Universität Berlin)

Artist Statement
Impossible Cities (40cm x 200cm, 2019), originally created as a linocut print displayed inside a lightbox, is currently proposed as a series of annotated digital photographs. Based on digital composites created in OpenStreetMap and Mapbox Studio, the artwork depicts imaginary maps of Moscow, Paris, Berlin, and New York, representing the artist's urban mobilities carried out in each city while conducting ethnographic fieldwork. However, while cartographically-plausible, Impossible Cities depicts the artist's journeys based on memory, collaged together in geographically-impossible ways. Data for these maps was gathered from a collaborative, open-data map platform, OpenStreetMap, which hosts geo-data submitted by community mappers based on how they imagine, and interact with their local environments. By using cartographic details from real-world maps, Impossible Cities contends that every map, no matter how objectively it purports to convey reality, relies on cultural conventions created and defined by diverse, and at times disparate communities. To make further manifest the socially-constructed nature of map-making, each map was hand-carved onto a linoleum block, handprinted on Japanese kozuke paper made from fibres of a mulberry tree, and placed inside a handmade lightbox. While such an object may not appear to fit with an ultramodern, technological vision of future mobilities, it was created using technological infrastructures and digital connectivities without which it could not exist. It is also currently mobilized across yet another digital environment. Thus, Impossible Cities asks viewers to contemplate representations of mobility in the way physical distance can be mapped using both physical and imagined distances, and as movement between virtual and material-, tangible and intangible systems of meaning.
---

Migration First Prize
For me, a border
digital ink (2021)
Lucy Hunt (Oxford University) with Parwana Amiri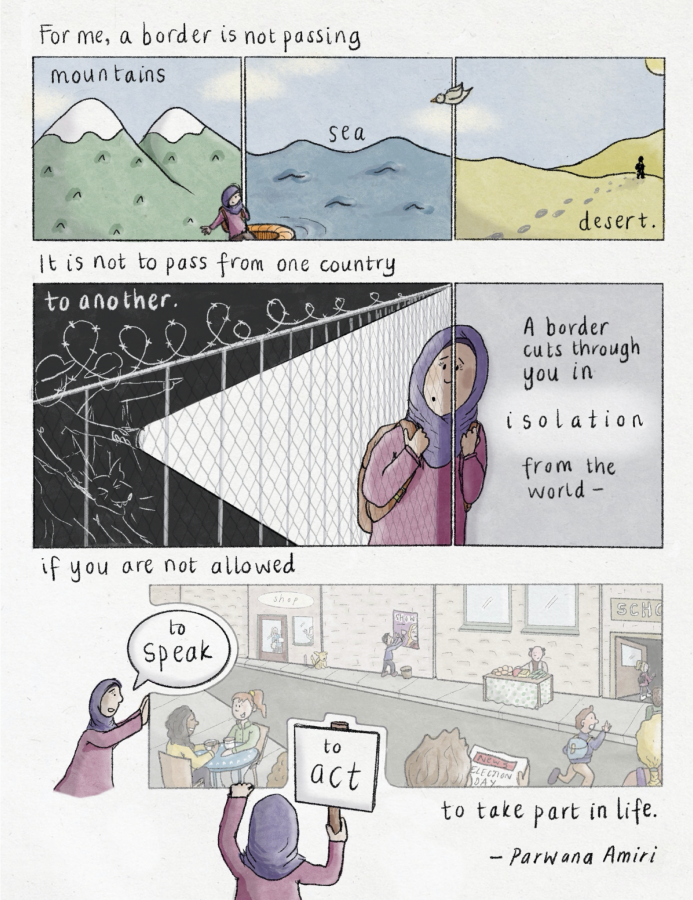 Artist Statement
Last summer, I came across these words from Parwana Amiri on social media. They were documented by a journalist who had been talking to Parwana – a writer from Afghanistan – about the experience of living in the notorious Greek refugee camps. Several things struck me: firstly, that these few lines consolidated my two years' worth of reading theory and research on the socially constructed nature of borders and bordering (for my PhD); secondly, that they need to be shared more widely; and thirdly, that the powerful imagery lends itself beautifully to a visual format. For these reasons, I contacted Parwana to ask for her permission to transform them into a comic. Thankfully she agreed, confirmed that the wording was accurate and gave feedback on the initial sketches.

Parwana has been an active reporter of life as a refugee in Greece. Her new project – 'Letters to the world from Ritsona' [a camp 90km north of Athens] – details the stories of residents struggling through the conditions of displacement at the borders of Europe. It is my hope with this comic that more attention will be drawn to their difficulties, to raise awareness of how they are being treated and to put pressure on the Greek and European authorities to find solutions. I believe that Parwana's eloquent and powerful words have the potential to do so, and wished to bring them into colour to help them reach a wider audience.
---

Migration Honorable Mention
Our Own Planetary Migration
digital graphic design (2021)
Manya Rezapour (Wismar University of Applied Science)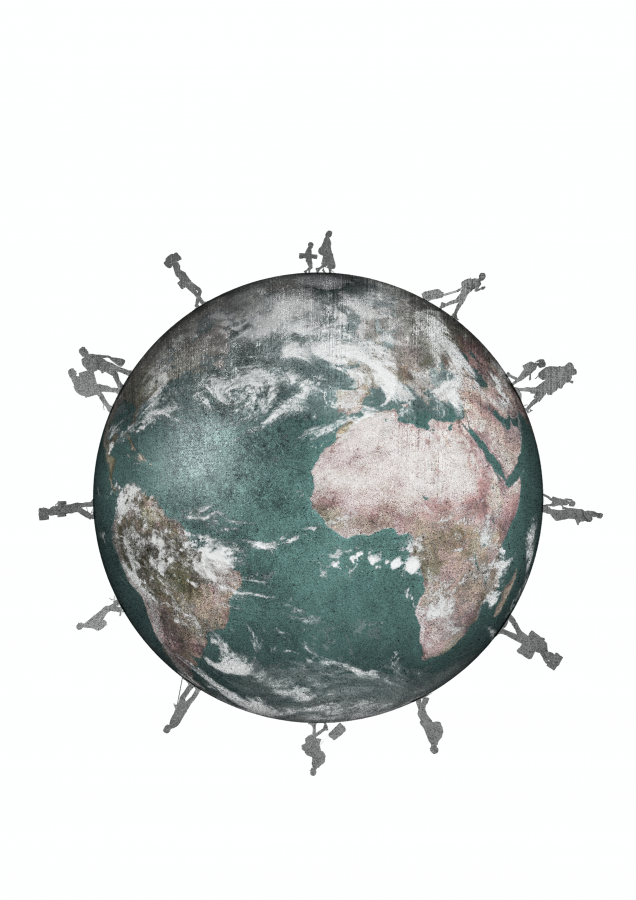 Artist Statement
We live in an era of international migration in which people living outside of their country of birth outnumber the population of almost all countries (with only four exceptions). 258 million is not just a number, but 258,000,000 untold stories from the past and 258,000,000 unvoiced desires for the future. Our own planetary migration depicts only a few of those stories and desires through dichotomizing international migrants into 12 groups (representing 12 hours of a day and the timelessness of migration). These 12 groups are temporary labor migrants; permanent migrants; irregular migrants; illegal migrants or undocumented migrants; highly skilled and business migrants; refugees; asylum seekers; forced migration; climate refugees; family members; return migrants; and long-term, low-skilled migrants. Like a planetary migration which is an astronomical phenomenon causing fundamental changes to a planet's orbital parameters, its semi-major axis, and its trajectory, human migration alters life outcomes, social compositions, and the global trajectory of the humankind in the era of international migration.
---

Migration Honorable Mention
The Feast Spins Incessantly
experimental animation (2020)
Bridget Bi (University of British Columbia)
Artist Statement
The experimental animation ​The Feast Spins Incessantly ​considers the linguistic hybridization of migrant individuals, who embody multiple languages and cognitive thinking. The attribute of being a hybrid extends beyond and shatters the ecolinguistic boundaries of ethnic groups.

Bridget examines the three languages she speaks, including Mandarin, English, and anintra-linguistic dialect Suzhounese, which belongs to the ​Wu ​language family. These three languages are entangled in hierarchical relations of linguistic prejudice and marginalization, resulting in linguicism. Under social pressure in the context of one dominant language, the avoidance of two others dissects linguistic spaces into isolated cells. The separation of phonological interactions enhances a dichotomous division between linguistic insiders and those categorized as others. In the field of decolonization, Bridget wonders whether inventing new linguistic codes could serve the purpose of de-othering and transcendence.

As contemporary migrants move from one eco-linguistic place to the next, their perspective of groupness decreases. Intercultural communication connects different individuals' ideas and shatters the dominant narrative into pieces of broken glasses. Detaching from groups indicates the fluidity of illusionary boundaries and in Bridget's reinvention, this fluidity in nomadic theory achieves harmonious linguistic coexistence. In the animation, Bridget experiments with hybridizing the fractures of symbolic signifiers and awaking one's awareness to personal uniqueness. Bridget attempts to form the metamorphosis of a merged literal translation.

Ostensibly, the spinning feast transmits the status of Narcissus to diners who perform a coherent deconstruction. However, the end of discrimination creates another type of discrimination. Once the feast spins at a super-fast rate, the banquet blends and becomes indistinguishable and hybridized.