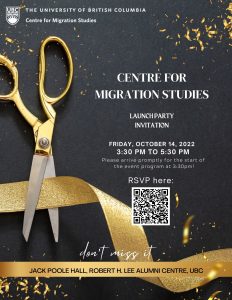 Please join us for the official launch party of the UBC Centre for Migration Studies! We are excited to celebrate and reflect on the work that has gone into creating the Migration Cluster and the Centre for Migration Studies and all that we have achieved to date.
When: Friday October 14, 3:30-5:30 PM
Where: Jack Poole Hall, Alumni Centre, UBC Vancouver campus
Important information
An event program is provided below.
For additional information about the party, including on transit and accessibility, please click here.
A photographer will join us at the event to document the event program and our celebration. Please do not hesitate to let us know at admin.migration@ubc.ca if you do not wish to be photographed.
RSVP: Registration for this event is now closed. If you did not manage to RSVP using the form but you would still like to attend, please let us know as soon as possible by emailing admin.migration@ubc.ca.