Migration & Citizenship Section Pre-Conference for the 2021 American Political Science Association (APSA)

Annual Conference
Wednesday, September 29, 2021

Location: Online Via Zoom

Free & open to the public. To register, fill out the RSVP form below.
Co-organized by Dr. Matthew Wright, Group Coordinator of the UBC Centre for Migration Studies Political Behaviour Group.
***Please find a recording of the first roundtable discussion, "The Language around Migration", on our YouTube channel here.***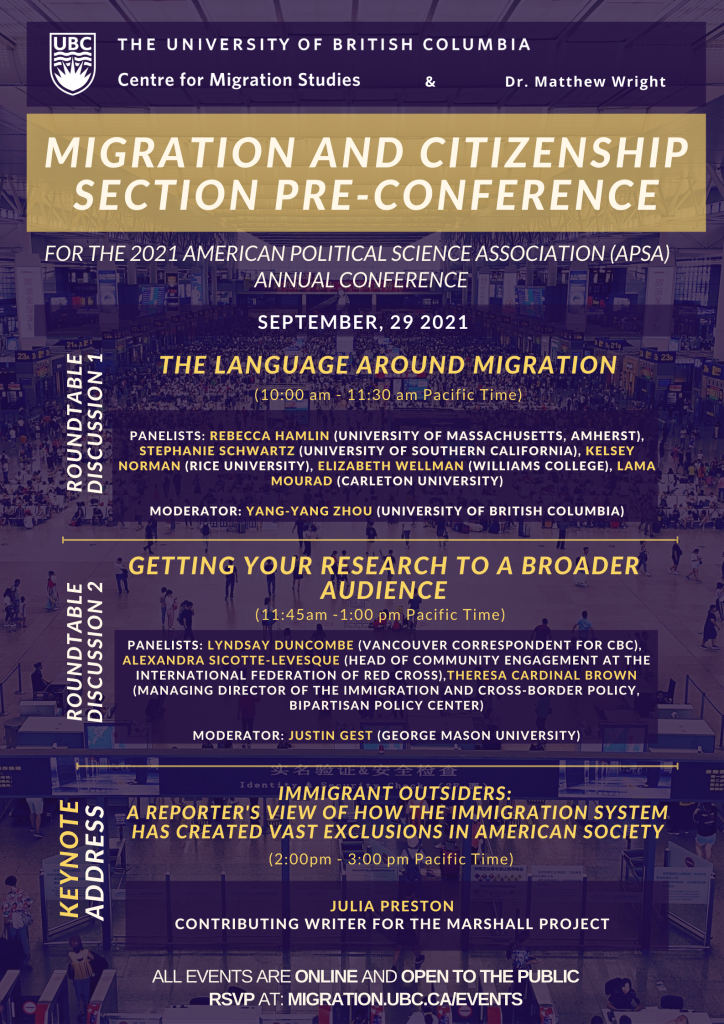 ROUNDTABLE DISCUSSION 1 (10am-11:30am Pacific) 
The Language Around Migration
Some scholars argue that terms like "forced migrants" or "forcibly displaced" are problematic because they take away agency, and reinforce the binary between voluntary and forced displacement. On the other hand, these terms are still the standard for organizations such as UNHCR and the World Bank, and others in the literature claim that the terms are valuable because they provide greater conceptual clarity. This roundtable aims to shed light on this topic, and the broader topic of how we should go about studying vulnerable populations in an ethical way.
Panelists:
Rebecca Hamlin (University of Massachusetts, Amherst)
Stephanie Schwartz (University of Southern California)
Kelsey Norman (Rice University)
Elizabeth Wellman (Williams College)
Lama Mourad (Carleton University)
Moderator:
Yang-Yang Zhou (University of British Columbia)
ROUNDTABLE DISCUSSION 2 (11:45am-1:00pm Pacific)
Getting your Research to Broader Audience
A perennial difficulty for social scientists is translating research findings from "academic-ese" – esoteric concepts, highly qualified writing, and technical jargon – to language accessible to broader, non-academic audiences in order to shape policy outcomes. A new book from George Mason University's Justin Gest, Mass Appeal: Communicating Policy Ideas in Multiple Media, instructs researchers on how to do just that. This roundtable brings together his collaborators — leaders from the worlds of media, government, and civil society — for a discussion about best practices for addressing this critical challenge.
Panelists:
Lyndsay Duncombe (Former Washington DC Bureau Chief and current Vancouver correspondent for CBC)
Alexandra Sicotte-Levesque (Head of Community Engagement at the International Federation of Red Cross and Red Crescent Societies & Co-Founder, Journalists for Human Rights)
Theresa Cardinal Brown, who is Managing Director of the Immigration and Cross-Border Policy, Bipartisan Policy Center
Moderator:
Justin Gest (George Mason University)
KEYNOTE ADDRESS (2-3pm Pacific): Julia Preston, Contributing Writer for The Marshall Project 
Immigrant Outsiders:  A reporter's view of how the immigration system has created vast exclusions in American society
The United States immigration system is intended to regulate the entry of foreign-born people into the country.  But in recent decades it has evolved to control the lives of millions of people already here, forcing them to live outside the protections of law, subjecting them to an arbitrary and erratic enforcement regime and excluding them, and millions of their American citizen spouses and children, from basic rights and benefits.  The COVID pandemic has sharpened and magnified the exclusions. This is a view from immigrant communities based on a journalist's reporting for The Marshall Project, and will include an update on how legislation before Congress could affect immigrant families.
Author Bio:
Julia Preston is a Contributing Writer at The Marshall Project, a non-profit newsroom focusing on criminal justice and immigration. Before coming to The Marshall Project in 2017, Ms. Preston worked for 21 years at The New York Times. She was the National Correspondent covering immigration from 2006 through 2016, and a correspondent in Mexico from 1995 through 2001, among other assignments. She is a 2020 winner of an Online Journalism Award for Explanatory Reporting, for a series by The Marshall Project on myths about immigration and crime. She was a member of the Times staff who won the 1998 Pulitzer Prize for reporting on international affairs, for a series on the corrosive effects of drug corruption in Mexico. She is a 1997 winner of the Maria Moors Cabot Prize for distinguished coverage of Latin America. Ms. Preston is the author, with Samuel Dillon, of Opening Mexico: The Making of a Democracy, Farrar, Straus and Giroux, 2004, which recounts Mexico's transformation from an authoritarian state into a struggling democracy.
Event Registration: