Migration & Mental Health: A Film Screening and Panel Discussion for Healthcare Providers & Settlement Workers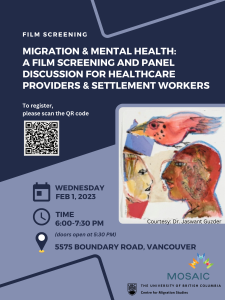 Film to be screened virtually: The World is Bright (Ying Wang, 2019). Link to film will be provided upon registration.
Time and place of panel discussion: MOSAIC headquarters, February 1, 2023, 6-7:30pm (doors open at 5:30pm); Address is 5575 Boundary Road, Vancouver. 
Summary:
Are you a frontline mental health worker supporting immigrants and refugees in your community? Are you familiar with, or do you wish to learn more about issues related to mental health and the settlement process? If so, you are cordially invited to a virtual screening of the documentary The World is Bright (Ying Wang, 2019) followed by a public panel discussion about the film one week following the screening. This event will be co-hosted by the UBC Centre for Migration Studies (CMS)' Community University Partnerships working group, and MOSAIC, the BC organization providing inclusive settlement and employment services for newcomers. The event is free and open to the public, and light refreshments will served to those attending the panel discussion in person. Registration is required. Please register below.
A link to film will be sent to registrants on January 25, 2023. They will have 1 week to view at no cost and at their own convenience. Registrants are then invited to attend a public panel discussion of the film at MOSAIC Headquarters on February 1, 2023. Five panelists including the filmmaker, three mental health professionals and educators, and a settlement service professional will be invited as panelists to guide the discussion.
Panelists (bios below):
Ying Wang, Director of The World is Bright
Dr. Jaswant Guzder, Professor (retired), McGill University, Division of Child Psychiatry & Division of Social and Cultural Psychiatry
Miriam Jurigová, Manager and Legal Advocate, MOSAIC Family & Settlement Services
Michael Lee, Professor of Teaching and Associate Head of Education Affairs, UBC Occupational Science and Occupational Therapy
Dr. Nancy Clark (moderator), Director of Social Justice Studies, Faculty of Social Sciences & Assistant Professor at the Faculty of Human and Social Development, School of Nursing, University of Victoria & Research Affiliate, UBC Centre for Migration Studies.
(1) Panelist: Ying Wang
Growing up in China in the pre-digital era, Ying is part of the generation who matured during China's drastic modern transformation. After graduating from university, Ying worked as a journalist and photographer. In her late 20s, she first came to Canada as an international student, and then became a landed immigrant.
As a migrant living through dynamic shifts in political power across the world, Ying has always been drawn to projects that can reveal historic, geopolitical complexity from a global perspective. Her first film Sisters is a docu-drama based on her younger sister's struggle with eating disorders. The World is Bright is her second feature that tackles the topic of immigration and mental health from a broader sociocultural perspective.
While making films, Ying has been actively working in the community. She is on the board of the Racial Equity Screen Office (RESO) and Moving Images Distribution, and serves as president on the board of Cinevolution Media Arts Society, an organization she co-founded in 2007 in Richmond, BC.
(2) Panelist: Dr. Jaswant Guzder
Jaswant Guzder is currently a retired Professor, formerly appointed to McGill University's Faculty of Medicine, Department of Psychiatry. She remains active in both Division of Child Psychiatry and Division of Social and Transcultural Psychiatry, and is currently a visiting professor at the University of British Columbia, working in Victoria BC as psychiatrist for the: Vancouver Island Center for Refugee and Immigrant Mental Health and Indigenous Child and Youth Health Services. She was former Head of Jewish General Hospital Child Psychiatry, Director of Childhood Disorders Hospital, first Director of Fellowship Program in Family Therapy Residency Training, founding Co-Director of the Jewish General Cultural Consultation Service. She has had an active role in teaching and training at McGill and as an Associate of the McGill School of Social Work. Her research work is mainly focused on children at risk and cultural psychiatry. She is active in global health initiatives and training, including the Dream a World cultural therapy project for high-risk children since 2005 with University of West Indies. Her teaching and training work include ongoing work in India, Nepal, Turkey, India, Italy and Jamaica, collaborating with local and McGill partners. Her research and clinical initiatives in global child mental health include numerous articles and book chapters as well as the co-edited volume, Cultural Consultation: Encounter the Other in Mental Health Care. Her book in collaboration with the Museo Laboratorio Della Mente was related to her art residency in Rome 2017. As an artist, clinician and advocate in mental health work she was awarded the Queen Elizabeth Jubilee Medal.
(3) Panelist: Miriam Jurigova
Miriam Jurigova (she/ her) is a public interest advocate. Miriam has worked in the non-profit sector in mental health and immigrant services since obtaining her Juris Doctor in Law from the University of Ottawa. In addition to her law degree, Miriam also acquired an Associate Certificate in Leadership & Conflict Resolution from the Justice Institute of British Columbia.
Throughout her career she has assisted clients with poverty law and immigration law. Her current employment is with MOSAIC's Legal Advocacy Program as the Manger and the Senior Legal Advocate. Her previous volunteer involvements have included Amnesty International's Refugee Network and the Red Cross's Sudan Campaign. She also currently volunteers with Northern Hope Dog Rescue society.
Miriam has firsthand experience of growing up in Canada as an immigrant, arriving with her family as overseas refugees to Canada when she was a child. She has worked in the social justice field since graduating from university, and in addition to advocating for refugee rights, particularly family reunification, she is passionate about environmental, conservation and animal rights issues.
(4) Michael Lee
Michael Lee is a Professor of Teaching in the Department of Occupational Science and Occupational Therapy, University of British Columbia. He is also the Associate Head of Educational Affairs of the Department. Michael has been an advocate for psychosocial rehabilitation and recovery, and received the Ambassador Award from Psychosocial Rehabilitation Canada in recognition of his pioneering work in advancing recovery practice for people living with mental illness. In the past ten years, he has been bringing psychosocial rehabilitation concepts and practice to countries where recovery for people living with mental illness is not fully established. One of his current projects is on supporting post-secondary students with disabilities to enter into health professional training and practice as health care providers.
(5) Moderator: Nancy Clark
Dr. Clark is director of social justice studies and assistant professor at the Faculty of Human and Social Development, School of Nursing at the University of Victoria, British Columbiahttp://oac.uvic.ca/nancyclark. Dr. Clark is an alumna of the Liu Institute for Global Issues at UBC and Intersections in Mental Health and Addiction Research Training with Canadian Institute of Health Research. Dr. Clark's research is informed by social justice, intersectionality, inclusion of patient population groups in mental health research, and equity-oriented health policy. Critical ethnographic and community based participatory action research methods are used in her work with structurally vulnerable groups, including groups affected by displacement and intersections of social determinants of mental health conditions. Dr. Clark is also an affiliated researcher at the University of British Columbia, (UBC) Center for Migration Studies.