The UBC Centre for Migration Studies 2021-22 Speaker Series presents:
"Migration

without Mobility: Vietnamese Migrants in Russia" with Dr. Lan Anh Hoang
Wednesday, October 13, 2021

3:00 PM – 4:30 PM Pacific Time (PT)

Location: Online via Zoom

Free & open to the public. To register, fill out the RSVP form below.
Co-sponsored by the UBC Centre for Migration Studies Mobilities Group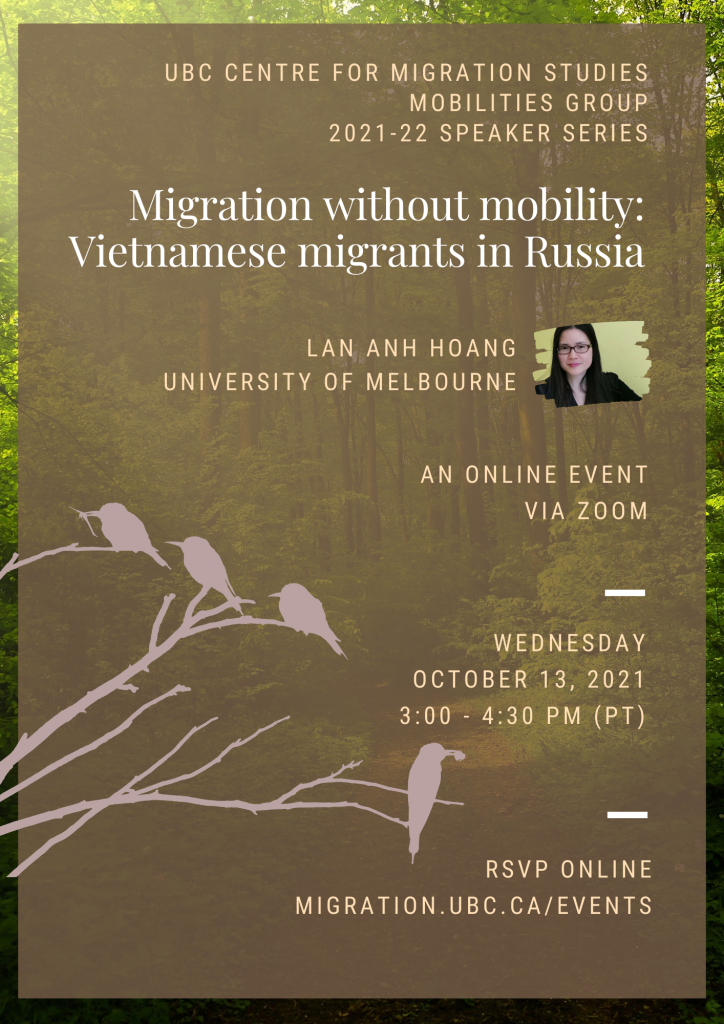 [Abstract]
Migration and mobility tend to be used interchangeably in migration studies. This tendency oversimplifies migrants' (im)mobility aspiration and capability, taking for granted their agency and control of their own migration process. In mobility, Massey (1994: 149) points out, 'some people are more in charge of it than others; some are more on the receiving-end of it than others; some are effectively imprisoned by it.' Drawing on ethnographic research on Vietnamese migrants trading at Moscow markets, this paper offers original insights into migrant immobilities, highlighting the social technologies and social imaginaries that arise from their gendered, raced, and classed experiences of immobilisation. Migrants' immobilities, whether voluntary or involuntary, have a profound impact on their sense making of self and aspirations for the future. The study enriches our understanding of the complex relationship between migration and mobility and the various ways in which it shapes social practice, identity and belonging.
 [Bio]
Dr. Lan Anh Hoang is Associate Professor in Development Studies in the School of Social and Political Sciences, The University of Melbourne, Australia. She is the author of 'Vietnamese Migrants in Russia: Mobility in Times of Uncertainty' (2020) and a co-editor of 'Transnational Labour Migration, Remittances, and the Changing Family in Asia (2015) and 'Money and Moralities in Contemporary Asia' (2019). Her research on migration, gender, identity, and networks has been published in many prestigious journals such as Gender and Society, Gender, Place and Culture, Global Networks, Population, Space and Place, Geoforum, Ethnic and Racial Studies, and Journal of Ethnic and Migration Studies. Lan's current project examines brokerage and migrant networks in the Vietnam-Australia migration corridor.
Event Registration: