The UBC Centre for Migration Studies 2021-22 Speaker Series presents:
"Modern Slavery and Constructions of Undocumented Vietnamese Migration in the UK" with Dr. Tamsin Barber
Tuesday November 30,

2021

12:00 – 1:30 pm— Pacific Time (PT) 

Location: Online via Zoom

Free & open to the public. To register, fill out the RSVP form below.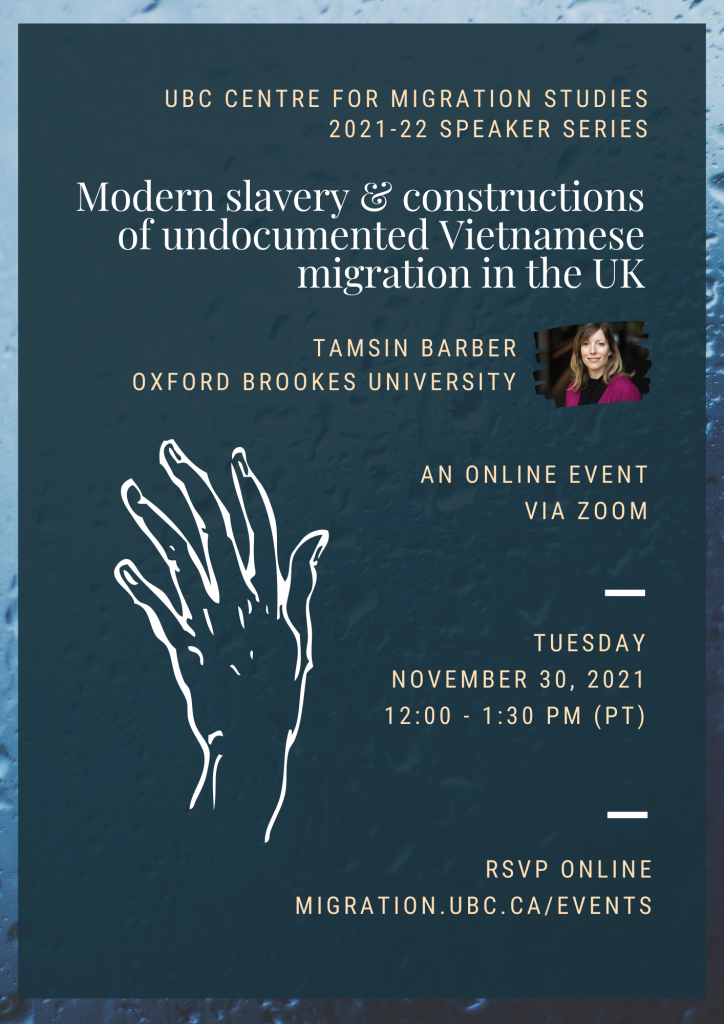 [Abstract]
Vietnamese migrants and nail salons have become almost synonymous with modern slavery in the UK during recent years. Vietnamese migrants have been positioned by the British media and policy discussions in polarised ways as either vulnerable, passive victims of traffickers in need of rescue or as criminals breaching UK immigration and employment law.  In this lecture, I contextualise these recent developments by exploring how the modern slavery agenda aligns with tendencies of the UK's restrictive approach to immigration under the Hostile Environment.  Concurrently, Vietnamese migrants have been represented as an ideal target of popular sympathy, vulnerability and suspicion which can be understood through the distinctive racialisations of East and Southeast Asians in the UK and the unique migration legacy of the Vietnamese in the UK, in contrast to other European countries.  The debates and policies around modern slavery and the hostile immigration policies are seen to skew our understanding of recent 'low-skilled' and undocumented Vietnamese migrants and divert attention away from the neo-liberalisation of the UK labour market. Drawing upon alternative narratives from Vietnamese open public chat room forums, cultural media and interview data with recent migrants, I argue for the deployment of Paret and Gleeson's (2016) more nuanced 'precarity-agency' lens to better account for the structural and agentic processes which shape the experience of Vietnamese migrants and enable us to move beyond binarised conceptualisations in order to capture the wider and much more complex, interconnected range of social processes and forms of agency at play.   
 [Bio]
Dr. Tamsin Barber is Senior Lecturer in Sociology at Oxford Brookes University, UK. Her research interests are in 'race', ethnicity, youth and migration with a focus on exclusion, inclusion, belonging and identity formation among the Vietnamese and other East/Southeast Asian groups in Britain.  Her 2015 monograph ''Oriental' Identities in Super-Diverse Britain: Young Vietnamese in London' analyses constructions of identity and belonging among the Vietnamese diaspora in London. Her more recent projects extend a focus towards new forms of migration from Vietnam funded by the Newton Mobility Fund and in her current project exploring the link between Vietnamese Migration to the UK and the urbanisation process in Vietnam (with Dr Phuc Van Nguyen, Trung Vuong University, Vietnam) funded by the Global Challenges Research Fund. She has also explored broader pan-ethnic East/Southeast Asian alliances on the British Academy funded project 'Becoming East/Southeast Asian: Youth Politics of Belonging in superdiverse Britain' with Dr Diana Yeh (City University). This project examined the emerging Southeast/East Asian youth identities and social spaces in urban Britain and the changing significance of 'race' and ethnicity in urban contexts. 
Event Registration: