The UBC Centre for Migration Studies presents:
"Extending the reach of academic research through photovoice: The Lived Experience of Aging Immigrants project"
10:30 am – 12:00 pm— Pacific Time (PT) 

Location: Online via Zoom

Free & open to the public. To register, fill out the RSVP form below.
This event is co-sponsored by the UBC Centre for Migration Studies Community-University Partnerships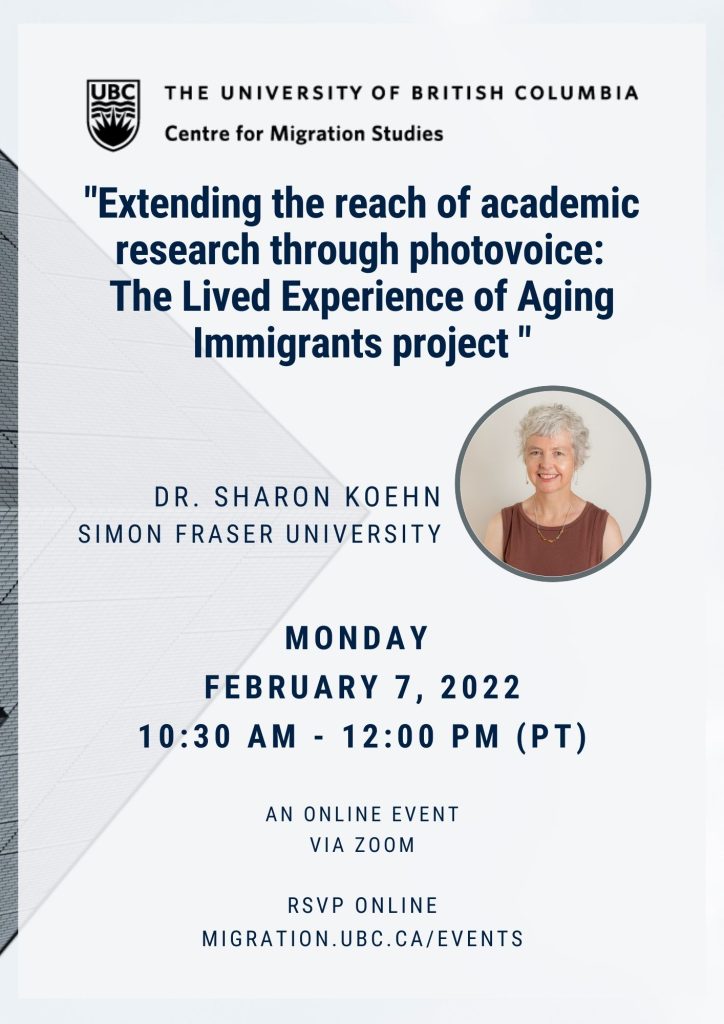 [Abstract] 
The Lived Experiences of Aging Immigrants project used narrative photovoice methodology to explore the experiences of 19 aging immigrants in Vancouver, British Columbia and Montréal, Québec. The project focused on older Canadian immigrants from under-researched groups – including immigrants from Afghanistan, Chile, Columbia, Guyana, North and South Korea, Nicaragua, Pakistan, the Philippines, and Trinidad and Tobago. Data were collected via life story narrative interviews and photovoice. Photovoice is a form of participatory action research that provides participants with the opportunity to express themselves via photography. From the interviews and photographs, a photovoice exhibit was created and displayed at locations in Vancouver and Montréal with the goal of reaching diverse stakeholders, including policymakers. To extend the exhibit's reach to other stakeholders, the researchers secured additional funds to host a series of Stakeholder Outreach Forums, for which the exhibit was the springboard for deeper conversations on older immigrant experiences with housing, health and social isolation. 
[Bio]
Dr. Sharon Koehn is Principal of Sharon Koehn Research Consulting. Trained as a medical anthropologist, she conducts interdisciplinary community-based research with immigrant older adults on dementia, health care access, chronic disease self-management support, quality of life, and mental health promotion. She is also Senior Lecturer in the Department of Gerontology at SFU where she teaches courses on culture migration and aging, health care issues for minority older adults, death and dying, health and illness in later life, and intersectional ageism. 
Event Registration: