No Zone: Poetry of the Border-lands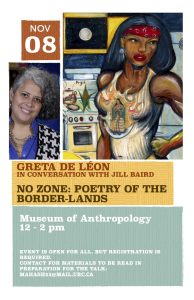 The CMS Borders Research Group is very pleased to announce a walking tour of the Xicanx exhibition at MOA by poet, artist and curator Greta de Léon, to be followed by a one of a kind conversation between her and curator Jill Baird on the potency and poignancy of poetry in the borderlands. We look forward to an afternoon of thinking through and with poetry, as we talk about our experiences of dwelling amidst borders. We invite all to be a part of these multimodal, multimedia and multidisciplinary approach to discussing pasts, presents and futures of borders. The walk will be preceded by light lunch, available upon registration.
Greta de Léon is the Executive Director of the Americas Research Network where she has spent over 22 years working extensively on issues of the Mexico-North and designing multi-disciplinary research projects and a series of scholarly symposia, conferences, and workshops as well as exhibitions, concerts, and other public events oriented to a general public. She also developed the U.S.-Mexico Transnationalism Fellowship Program and served as the Assistant Director of the Palace of Fine Arts of Mexico's National Institute of Fine Arts in Mexico City, as well as the Assistant Director of the Mexican Cultural Institute in San Antonio, Texas. She is also the co-curator of the Xicanx exhibition at the Museum of Anthropology, Vancouver.
Jill Baird is the curator of education at the museum, responsible for the design, development, delivery and evaluation of cultural education programming, working alongside artists, cultural practitioners and cultural educators from diverse and distinct communities.
The event is open to everyone, but registration is required.
Following is a list of poems curated by Greta de Léon herself, to serve as a precedent to the discussion. Attendees are encouraged to read at least 4 of the following dozen poems in preparation for the event:
Greta de Leon – No Zone: Poetry of the Border Lands
You can get in touch with Mahashewta Bhattacharya at mahash25@mail.ubc.ca if you have any questions.
Registration: