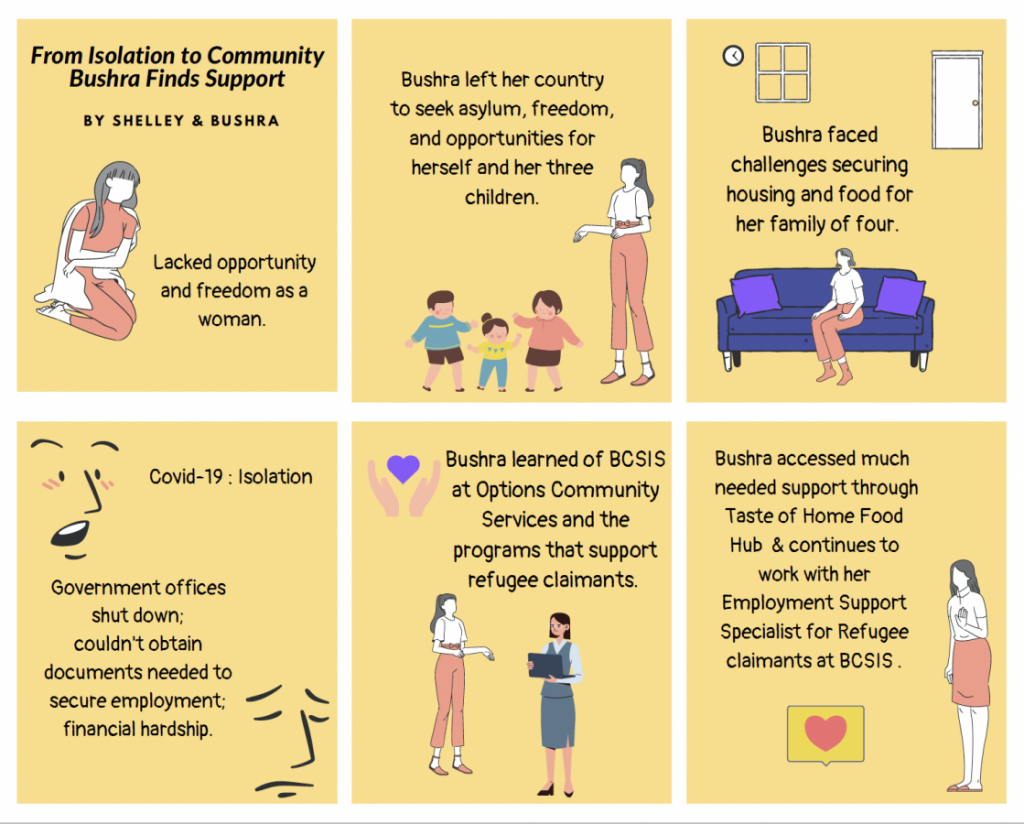 The UBC Centre for Migration Studies (CMS) and Options Community Services (OCS) recently partnered on a unique participatory initiative called The Co-Created Story Project.
The Co-Created Story Project
The project's goal was to create an opportunity for OCS frontline Immigrant Services (IS) staff to collaborate with newcomer clients in a safe space where clients could tell their stories about their migration journey or their newcomer experience in Canada. Whether it was the experience of migrating from a refugee camp and finding a home in Surrey, or navigating community services through the pandemic, clients and OCS IS staff together documented stories about being a newcomer. The project team included OCS Digital Coordinator Lucas Ho, OCS Practicum Student Rodrigo Morales, UBC PhD student Atieh Razavi Yekta, and 2 resource developers hired by OCS, Diana Jeffries and Andrea Solnes. The team guided OCS IS staff through 3 virtual workshops to introduce the co-created story process and principles, including ethical guidelines, trauma-informed practices, interview techniques and possible story formats. They then worked closely with 8 staff through coaching sessions and mini-workshops to guide them in working with their clients to co-create stories in various formats, including written articles, podcasts, digital storyboards, art projects and videos.
Importance of the Partnership
The collaboration between OCS and CMS strengthened the project as the synergy and resources combined to create richer and more far-reaching outcomes. As noted by OCS Deputy Executive Director Khim Tan, "OCS IS and CMS embraced the mutual objective of timely responses to funding opportunities to create collaborative initiatives aimed at increasing the capacity and knowledge base of OCS IS staff to better serve immigrant and refugee clients. Our Co-Created Story Project afforded OCS IS staff to deepen existing relationships as they engage with newcomer clients to co-create unique stories of resilience via the use of different mediums." As current director of the Community-University Partnerships research group of the CMS, Suzanne Huot shares Tan's excitement about the partnership, stating "CMS provides training opportunities for graduate students and the potential to generate knowledge that will immediately benefit the community by being grounded in data collection with frontline workers and being mobilized directly back to the partners." Huot saw Atieh's skillset as being particularly well-suited to the Co-Created Story project. With a background in designing interactive technology and a human-centered research experience, Atieh brought much to the team while also gaining the opportunity to collaborate on a community-based project within the settlement sector.
The Experience, Lessons Learned & Outcomes
Eight frontline staff working with a diverse range of newcomer clients including seniors, youth, refugee claimants, and skilled workers were engaged in a 2-month participatory process. In addition to producing 10 authentic and compelling stories that shine a light on both the challenges and the resilience of newcomers, participating staff also learned practical skills for storytelling to support their own professional development in being able to contribute to funding proposals, more authentic report writing, and participating in qualitative research. The unexpected outcome of the project was in the process of communicating with their clients in a deeper way, and thus gaining a better understanding of their experiences. Tan notes, "it has been most affirming for staff to regain validation and purpose for their work and service to our newcomer clients through their engagement and co-creating endeavour."
In engaging in an uncertain and exploratory process, project leads Jeffries and Solnes acknowledged the challenges of the Co-Created Story, especially given the time constraints of the project and already overloaded work schedules of OCS IS staff. While 2 months was adequate time to create the stories, participants noted the importance of having time to breathe with the story, time to reflect, and time to learn techniques, before starting the story-creating process. While UBC PhD student Atieh's role was also an emergent one, she stated: "Working with the Co-Created Story team at OCS provided me with strong knowledge about how immigrant services and programs work and how service providers support and engage with their clients, especially during the pandemic. Through this experience, I developed strong skills in coaching service providers on how to use new tools and software to design creative digital products. Through one-on-one coaching sessions with OCS staff, I learned about their lived experiences working in the settlement sector and established a network with them that I hope to maintain and strengthen for future continued engagement."
Possibilities Moving Forward
The successful collaboration between CMSand OCS on this storytelling project reflects the importance of ongoing engagement between community partners and academic institutions in seeking further meaningful qualitative data to generate new insights and opportunities for newcomer community engagement in Canadian society. As Professor Huot shares, "The timelines for funding opportunities are often quite tight, which can make it challenging to find the right fit at the right time. This speaks to the importance of engaging in ongoing dialogue between partners that can proactively seek out opportunities, rather than responding to punctual funding calls. The CMS supports this by hosting community luncheons and is currently developing a Community Advisory Board so that partnerships are always intricately woven into our work."
Specifically about this project, Huot adds "The process developed through this project for co-creating stories will be shared at an upcoming publicly available free workshop to be held virtually in the fall." Tan is equally committed to the ongoing opportunities the partnership holds: "We are excited that The Co-Created Story Toolkit plus insights and learnings from processes that led to both project outcomes and outputs will be made public and accessible to service providers, researchers and funders. We hope to demonstrate our Co-Created Story Project as a great example of a Community-University Research Partnership from which project feedback and evaluation is used for additional funding opportunities to further service/program development." Both Tan and Huot are excited to seek out additional funding to extend the partnership and generate new opportunities for further knowledge generation.